Listing your app
We're delighted that you've decided to join the Apaleo ecosystem. The approval process begins as soon as you create the app's Store entry. Each new public app that is submitted to the Apaleo Store must be certified to ensure the high standards of quality and reliability that our customers expect.
Register and set up your first client
In order to publish your integration on the Apaleo Store, you will first need to register for an Apaleo developer account.
Once you set up your first client in your store apps view, you will be able to access the content editor to enter all information relevant to your app. For more details on the initial integration setup, please follow our Getting started developer guide.
Please note that only Apaleo Connect instances enable you to set up an app store listing, thus, we highly recommend you to integrate with Apaleo through direct integration.
Access listing and edit your profile
Once your Connect client has been created, you can access the profile editor by clicking "Edit App Store profile" link.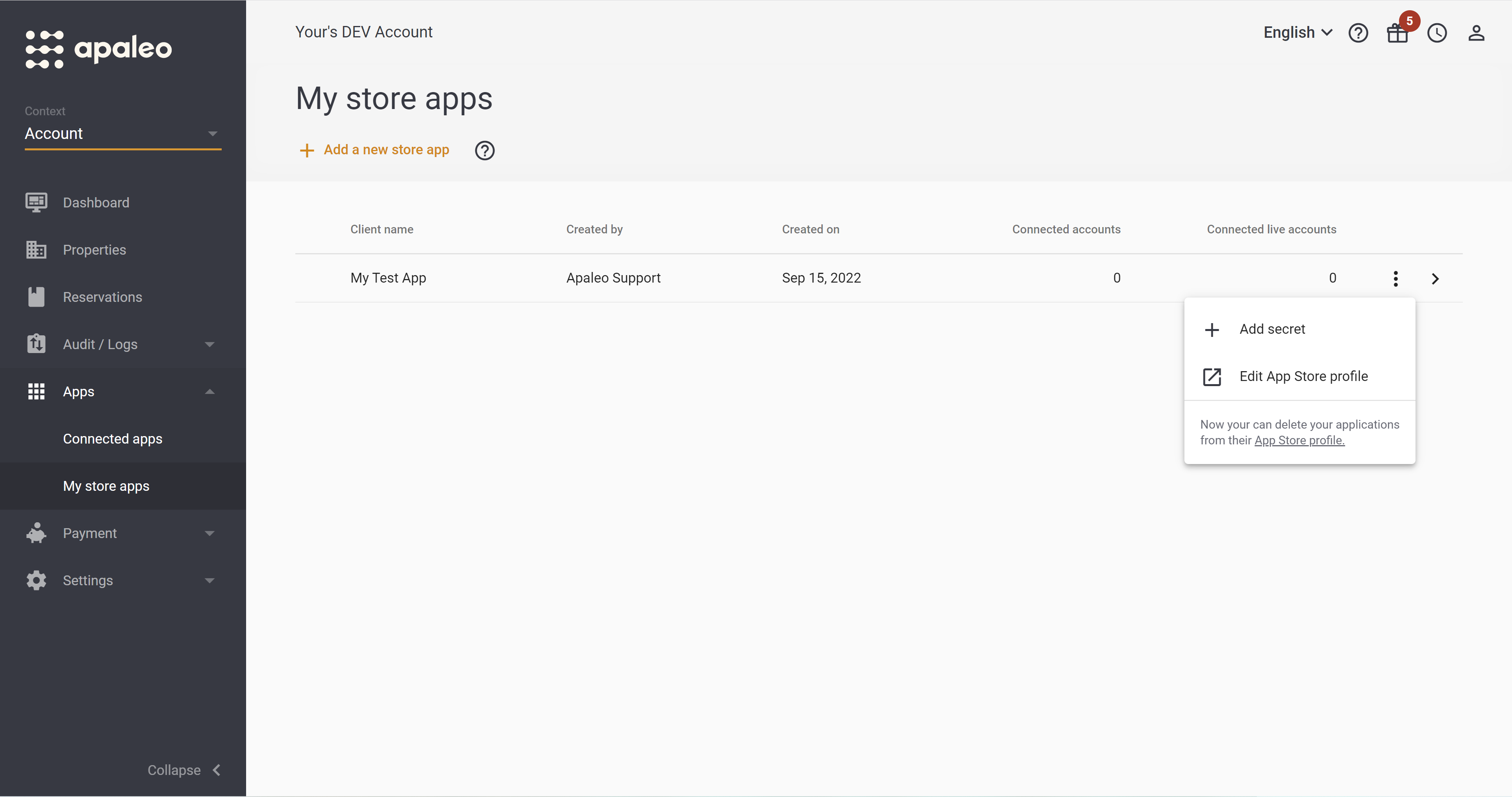 The app listing submission form is divided into five tabs:
Basic Information
Description
Integration Features
Pricing
Support
In order for your app to be eligible for publishing on our store, you are requested to fill all mandatory fields and undergo a manual review process. We advise having someone technical to create the client and someone on the marketing side to fill the app store profile. While filling in your information, you can preview your progress via "Preview profile" action.
Basic Information
In the Basic Information section, add your public app name, app tagline, and Connect button URL.
This section allows you to upload the logo, images, and screenshots. This is a great way to highlight key app features and give customers a clear idea of how your app works. Check our recommendations placed on the left side, it should help you understand what we expect to see in each field.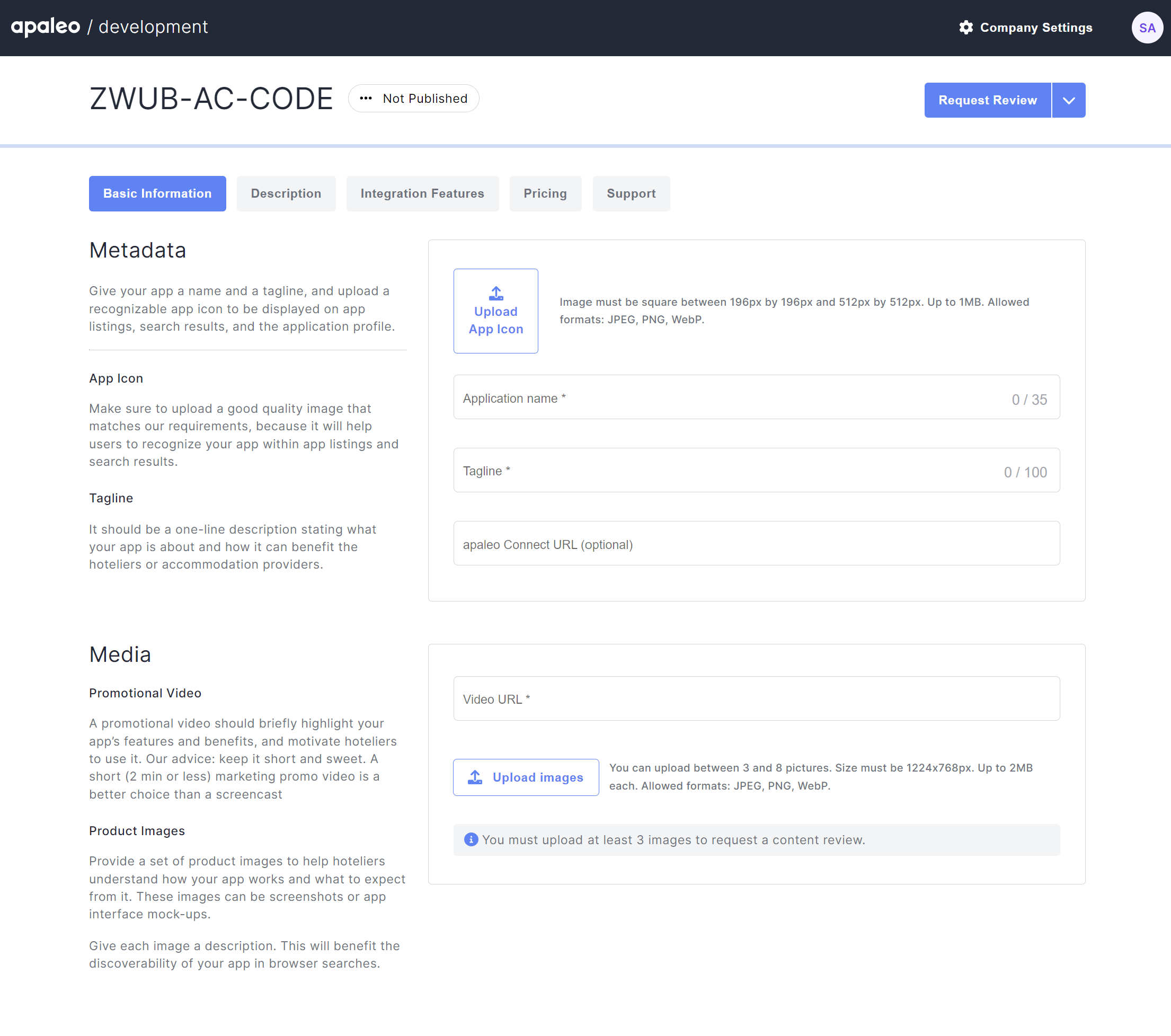 Description
Tell hoteliers how they could benefit from using your app. How does your application work? How can it make their businesses more successful? Put all these details under the Description section, select up to two categories for your app, and specify the key benefits that customers might have from your application.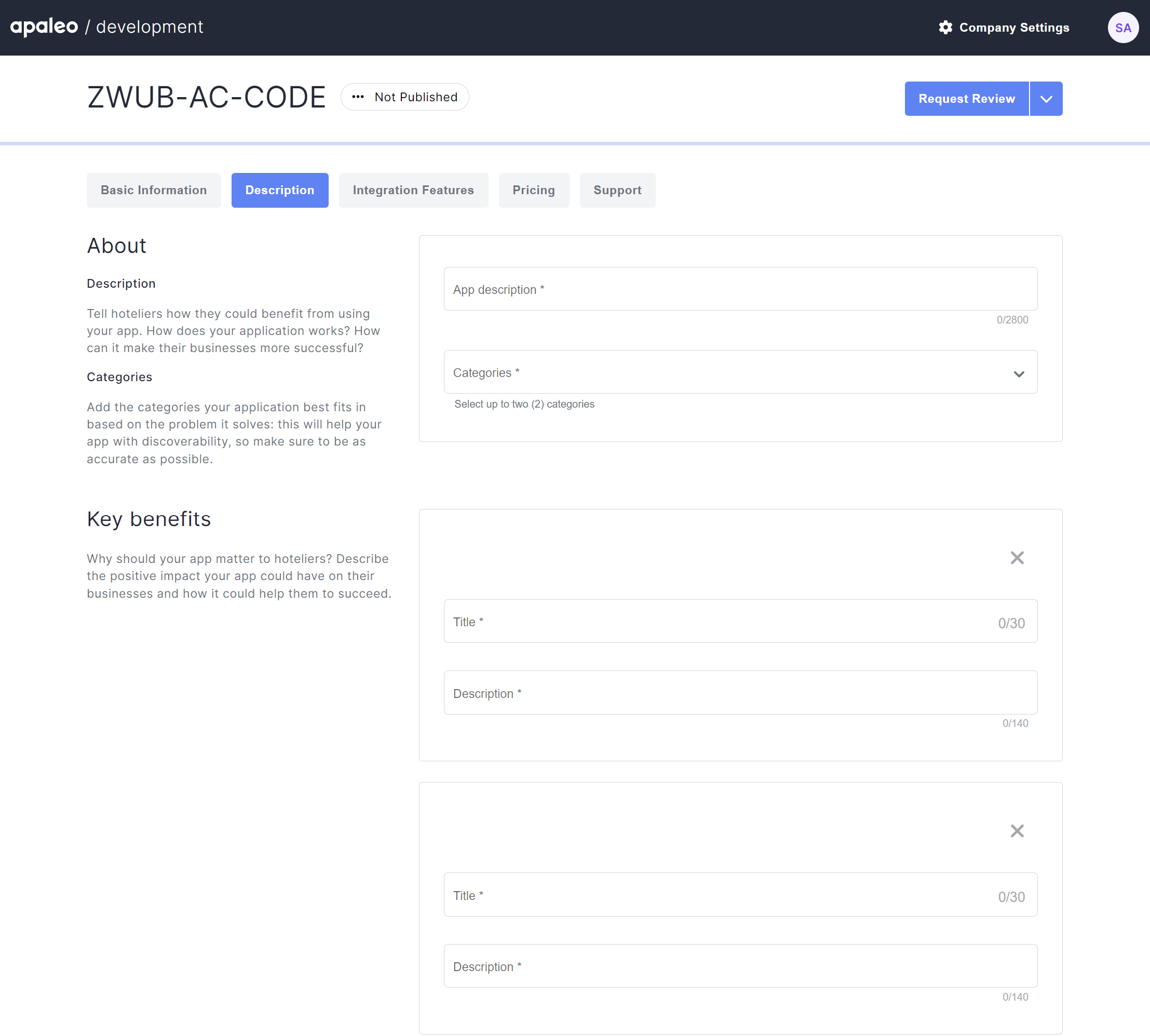 Integration Features
In this section, highlight how the integration works with Apaleo and the specific features that derive from it.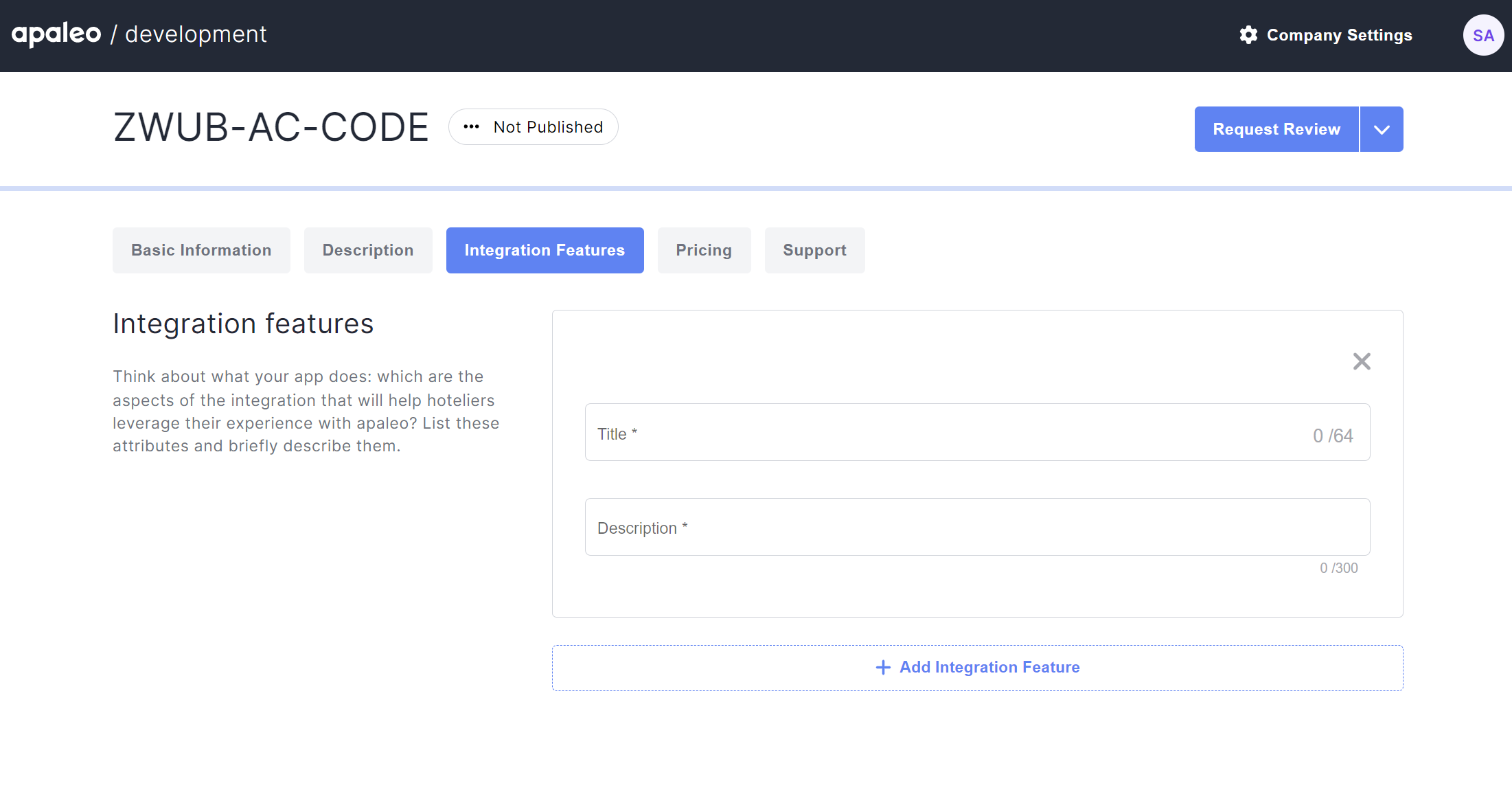 Pricing
The Pricing section lets you set up pricing plans for your app by adding the plan name, description for it, included features list, and pricing model. Depending on the pricing model selected, you may need to add more information, such as the frequency of payment, one-time fees, or monthly subscription fees.
There are four primary pricing types that you can use for your app:
| | |
| --- | --- |
| Free | Select this option if you won't charge the client anything for installing and using the app. However, apps that are Free can still have additional usage charges that need to be described in the corresponding "Additional Charges" section |
| Cost per unit | Select this option if you will charge the client based on the inventory. There are three types of it: per bed, per room, and per property |
| Fixed Recurring | Select this option if you will charge the client each month (every 30 days) or each year that they have the app installed. It is also possible to set up a one-time payment if you will charge a single fee for installing the app |
| Commission | Select this option if you will charge a certain percentage on the performance customers get from your app. There are two types of it: Transaction fee and Generated Revenue |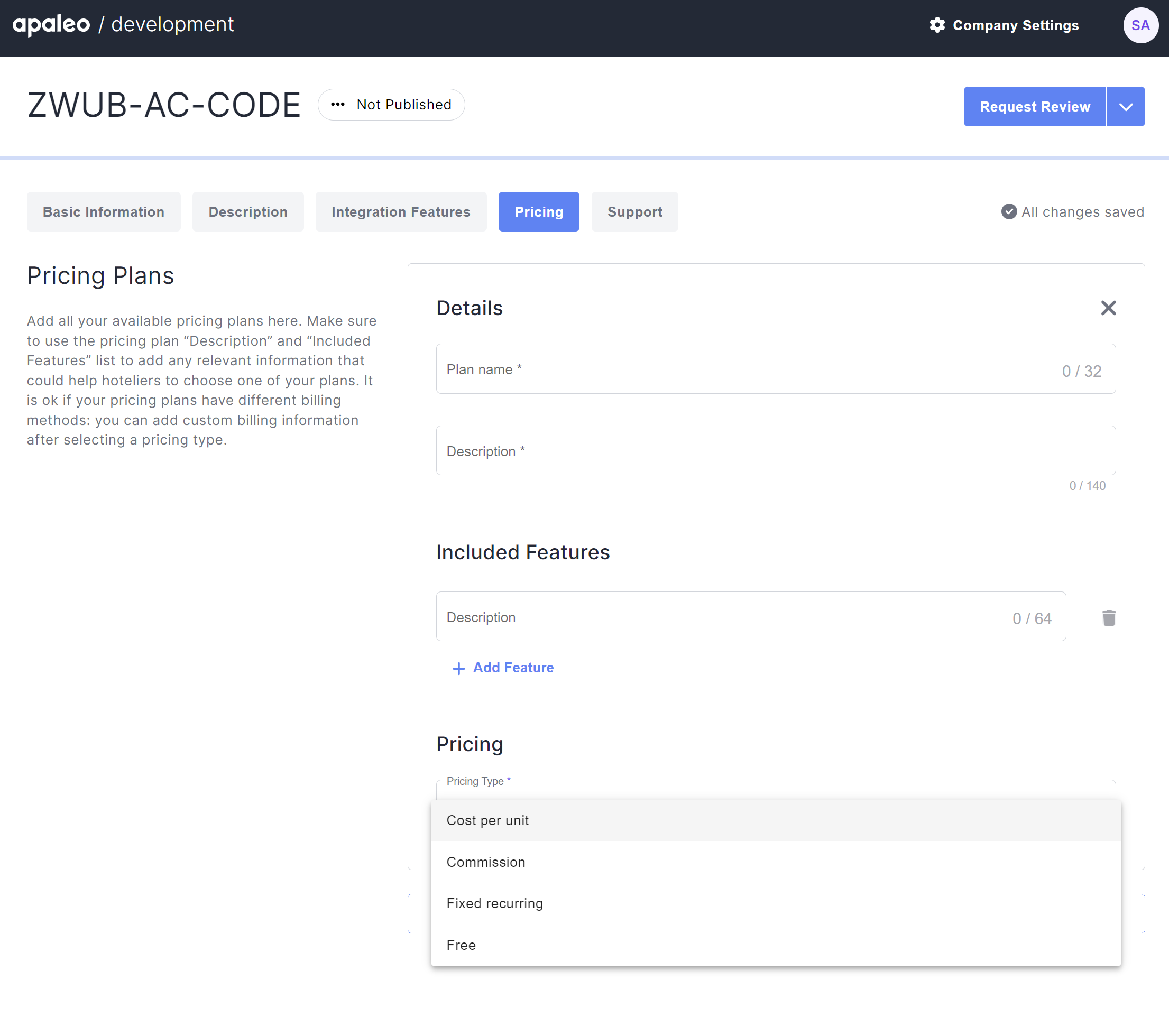 Support
This section allows you to provide contact information for users who have questions while using your app. Add your support email, company website, and languages that customer support and your app's user interface is available in. Don't forget to share the links to your Terms of Service and Privacy Policy documents.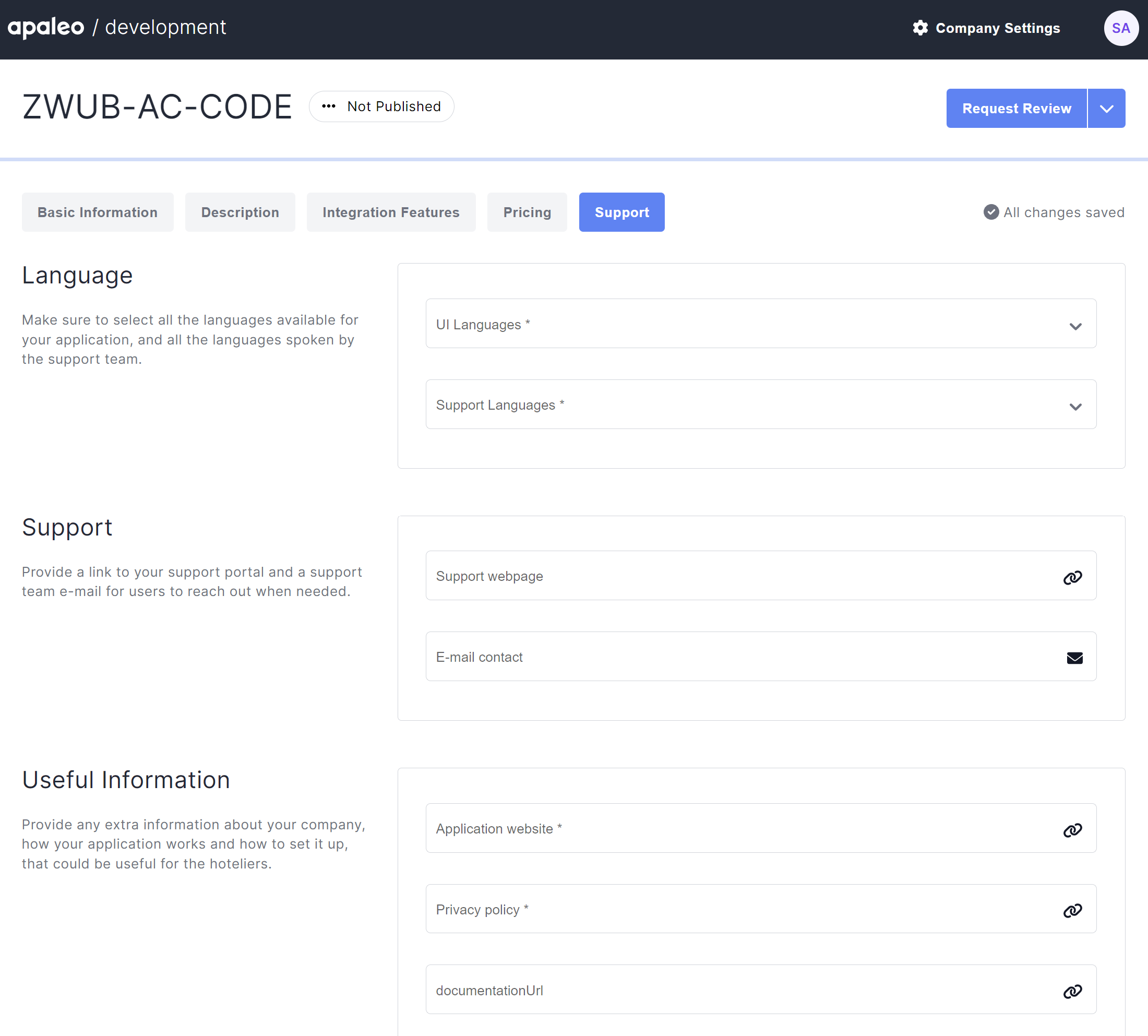 Company Settings
To help our users find the right app and for the sake of discoverability, we included a brief "Company Details" section in all app profiles.
This information will be shared across all the applications that belong to your company, so you only have to complete the form once. It's mandatory information for your application.
Company settings include general details and contact information. We use contacts that you provided to reach you out and notify you about your application status review.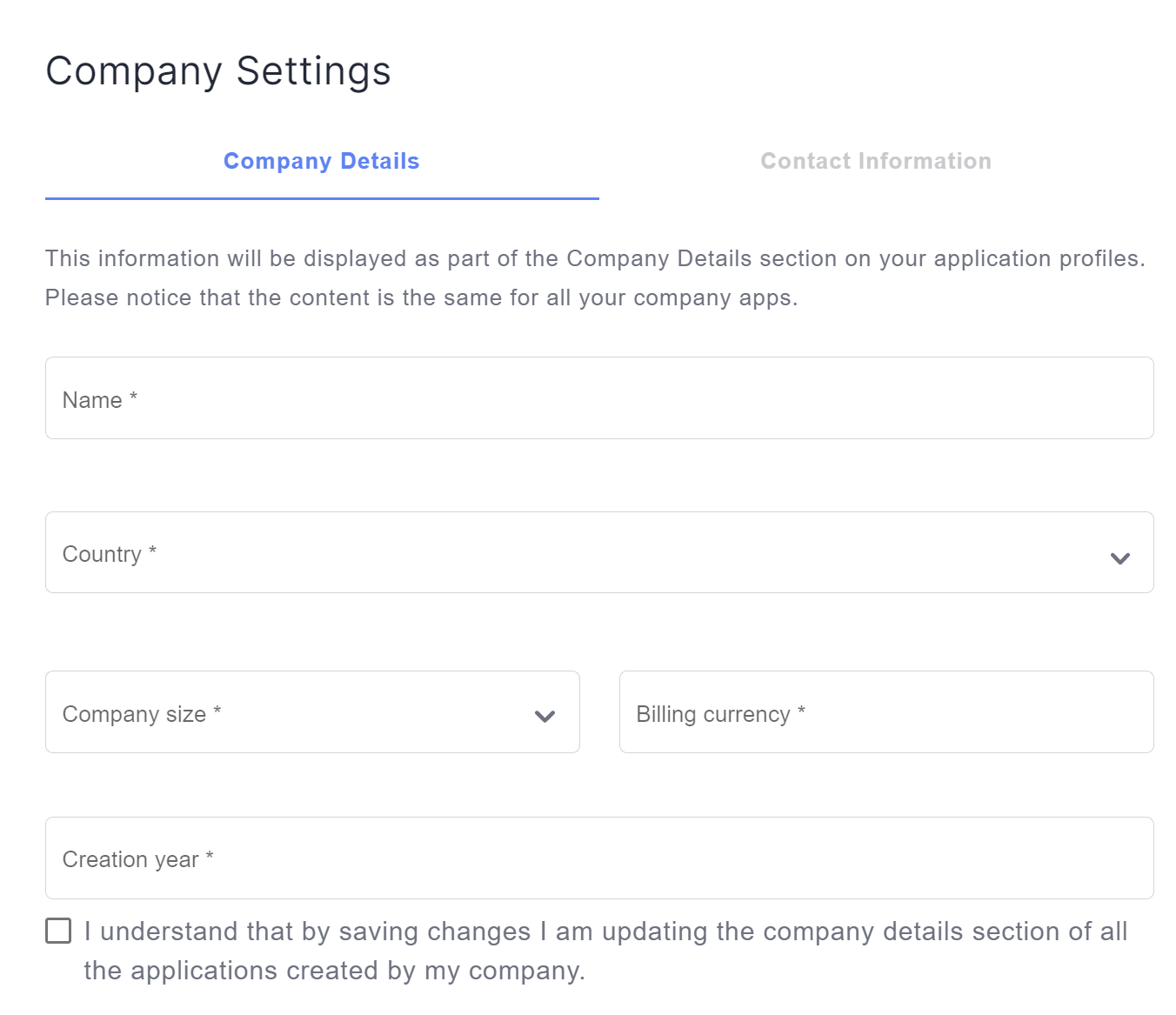 And that's it! Once you are happy with how your product listing looks, click Request Review and wait for us to get back to you with a review.
Wait for feedback from us
In the review, we focus on the points that impact the store experience of hotels. Specifically, those are:
completeness and (to a certain degree) correctness of the content.
quality of images
links to support and privacy (if personal data is stored)
consistency in formatting and tone across all apps. Some examples: Don't overuse bold or italic fonts, do not write in ALL CAPS, and consider using lists, when you list items.
Before publishing, we will also need you to sign our listing T&Cs, which we will make available to you latest.